The Ritz Carlton Abama auf Teneriffa
Wie schön, wenn der ewige Frühling nur vom Sommer unterbrochen wird, wenn der Himmel  durch und durch Blau ist, die Durchschnittstemperatur übers Jahr bei 22 Grad liegt. Keine andere Region Spaniens ist vom Wetter so begünstigt wie die Südwestküste Teneriffas. An dieser Küste thront das Abama, wie ein maurischer Palast – als einziges Urlaubsresort der Luxusmarke The Ritz-Carlton in Europa. Unbezahlbar und dennoch inklusive: die Aussicht aus den Zimmern, Suiten und Villen. Nur aus dieser Perspektive bietet sich dieser Blick zur Insel La Gomera –  beinahe zum Greifen nah.
Während die Zimmer und Suiten des Abama bereits als die größten Teneriffas gelten und die neu geschaffene Club-Etage mit besonderen Annehmlichkeiten für Gäste des Ritz-Carlton Rewards-Programms aufwartet, eröffnet sich mit den Tagor-Villen eine eigene Dimension.
Inspiriert von der Geschichte der "Guanchen", den Ureinwohnern der Insel, schuf man hier einen Ort, der nur Erwachsenen vorbehalten ist – ausgestattet mit zusätzlichen Privilegien – vom Butler-Service bis zur Nutzung der VIP-Lounge am Flughafen.
Eine Dimension für sich stellt auch der hauseigene Golfplatz dar. Die Spieler-Legende Dave Thomas hat mit 22 Seen, mit Wasserfällen und mit 25.000 Palmen einen Platz geschaffen, der wie ein Magnet auf Spieler wirkt, die eine Herausforderung suchen. Und die sich nicht ablenken lassen durch die Aussichten auf den endlosen Atlantik.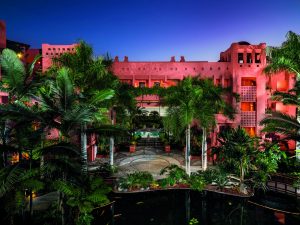 Nicht hauseigen, aber nur über das Hotel erreichbar, ist die Bucht des Abama. Auch hier: Ein Ort für beste Aussichten. Am besten auf den Sonnenuntergang, der seinesgleichen sucht. Für Momente, die zu den schönsten im Urlaub zählen. Und die gleichzeitig Auftakt sind – für die Sterne. Die am Himmel, besonders aber die im Hotel. Zwei Sterne erwarten den Feinschmecker am Tisch des baskischen Spitzenkochs Martin Berasategui. Ein Stern geht an das japanische Fusion-Restaurant "Abama Kabuki". Kein Wunder, dass immer mehr Genießer allein deswegen anreisen. The Ritz-Carlton Abama: Kein Hotel auf den Kanaren verzeichnet mehr Auszeichnungen für seine Kochkunst.
Wir berichten Ihnen gerne über die besten Aussichten im The Ritz-Carlton Abama.
http://www.ritzcarlton.com/de/hotels/spain/abama
Ihre Angela Kühlke